Hello to all readers. Today I'm going to share with you the latest issue which is, Facebook Viruses Infection. Okay maybe some of you had been infected by these viruses. This post is not only for Malaysian, but it's for all Facebook Users.


ATTENTION TO ALL MALAYSIANS : Kenapa pula saya cakap bahasa inggeris ? Sebab post kali ini umum, dan jika ada benda tidak faham, boleh guna GOOGLE TRANSLATION.
Okay I'll tell you how the virus can get into you. This virus spreads via IM, especially Facebook IM. Firstly it will send you a message via your
"Facebook's Friend Account"
. The conversation from the virus will be look like below :
Virus : Hi, how are you ?
Your message
Virus : Wanna laugh? :)
Your message
Virus : Is it you in the video ? want to see ?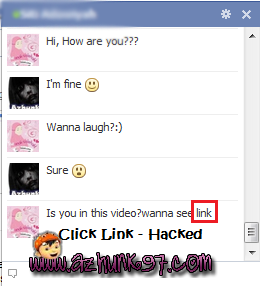 Re-enactments from me and my friends
And the virus link will follow shortly after that message. Maybe some of the virus message not in above form, or maybe in other form. But make sure, I got it with IP Address Form. You know what IP Address ? It's a number address e.g : 952.293 (Random Number).
If you opened the link, your account will be automatically infected by the virus. No matter how long your password is, the virus still can track your account and make a trouble.
I think above information is enough for you to identify the virus. I got some steps for you to avoid the infections.
DA STEPS
- Frequently change your Facebook Password.
- Ignore unknown message.
- If your friends acts different as usual, don't reply their IM.
- Update your Anti-Virus
That's all, I hope you guys can enjoy FB-ing without virus infection !
* I don't know what would happen if the virus get into you. Maybe computer damage ? File damage? or etc.*